Why Petra Is The Halter Neck Bridesmaid Dress You'll Love
Ladies, you all know the problem, how can you possibly wear a halterneck dress? I mean it's 2O19 which means that there's defo ✖ no bra straps allowed ✖ BUT they look so nice, there different from your every day style and there's something oh so sexy bout showing dem collar bones.
We had so many ladies in looking for this style and although we have our amazing Anastasia Dress, sometimes this wasn't within people's budget and as we do aim to please, we decided to bring in a dress to combat the two biggest problems
Bust Support
Price
Remember, we have a priceless amount of backround knowledge, throughout each design process, we speak with our internal design team and YOU our customers. We're different from any other online seller, as we actually have our shop and speak face to face with our customers so know what they want.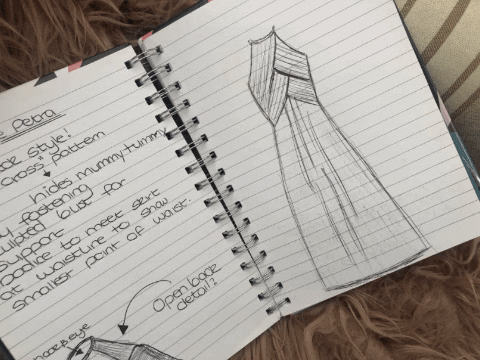 With dresses it's all about illusions and finding the best angles to emphasis your best parts. So with Petra, we made the bodice wide enough that it could hide a strapless bra, and thin enough at the top that it would elongate the neck, and show off your collar bones.
As this dress is halterneck, you obviously cannot wear a bra with straps, it's forbidden :| but don't worry we know that not everyones (infact hardly anyone's) boobs are perky double A's that literally stay in place all day. So we made our dress with bust molds in place at a very attractive position so that your bust has the illusion that it's sitting where it should be. Combine this with our bust cups and cup shaped bust wire which holds your bust in place and you're good to go.
With the bodice, we again used the clever technique of line use and had diagonal roushin made to emphasize the smallest part of the waist, and again lengthening the bodice.
We made our a-line skirt flowy but not too much fabric that it drowns you - which a surprising amount of ladies mentioned that they didn't like. However, we did add in some pleats at the front to hide those 'mummy tummys' and your everyday bloating which I am sure you will agree is an absolute godsend.
And obviously we made our dress easy to put on with a zip back and hook and eye catch :)
PETRA IS LIMITED IN STOCK AND WE WILL NOT BE GETTING BACK IN THIS WAS A ONE OFF AT THIS PRICE, ONCE THE STOCK IS GONE IT IS GONE
Available to buy in store and on our website here:
With special thanks to ♥
Photography: Alps. Website :https://www.whitecherrie.co.uk/ Instagram: @white_cherrie_photography
Venue: Chatauherault Country Park
Dress Designed by: Holly Sneddon & Kayleigh Bidwell